Monday, July 13th, 2009
Chuck Close's Wheelchair Painting
Many art history students are introduced to Chuck Close's art with this painting: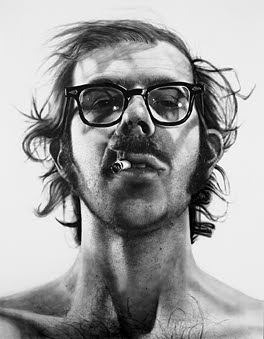 Big Self Portrait, 1967-1968
Close is really interesting because of his painting theories and technique. Instead of just transferring a photograph into paint on a canvas, Close thinks that painting is a systematic and intellectual exercise. His work is not just about transferring images – he is transferring "photographic
information
into painted
information
").
1
I think it's especially interesting that this systematic approach can be further seen in Close's choice of large-scale canvases – they are basically same size (9′ x 7′).
2
Although he is best described as a photorealist, this interest in systematic and intellectual art makes Close a little different from his colleagues.Anyhow, a conversation last night reminded me that Close's later work is stylistically different from his early portraits. In 1988, a collapsed spinal artery left Close nearly paralyzed. Luckily, he has been able to continue painting from his wheelchair with a brush strapped to his partially mobile hand. Although Close was veering towards a more lively style before 1988, his current condition ensures that he cannot paint in the meticulous manner required for his early style. Personally, though, I really like Close's later work. It's dynamic and interesting. I also think that it's fun to zoom in on Close's later paintings until the portraits are unrecognizable; they become a myriad of colorful, stylized swirls and whorls.
You can see how much Close's style has changed by looking at this self portrait:
I think it's really awesome that Close has been able to continue his career and artistic vision (he even continues to paint on large-scale canvases!). You can watch a video of him working below (and read more of the CBS story here).
Pretty impressive stuff, huh? Which Chuck Close style do you like more? His early style or later style? Or neither?
1 Fred S. Kleiner and Christin J. Mamiya, Gardner's Art Through the Ages, 12th ed., vol. 2 (Belmont, CA: Wadsworth, 2005), 1056 (italics added for emphasis).
2 Ibid.