Saturday, February 27th, 2010
What immediately comes to your mind when you think of paintings by Van Gogh? Sunflowers? Starry nights? Creepy self portraits with bandages that cover up a mutilated ear? Well, my friends, it looks like you can add new subject matter to Van Gogh's oeuvre: a windmill and tricoleur flag. This painting on the right, Le Blute-Fin Mill (1886) was recently authenticated as a Van Gogh painting. Honestly, I never would have considered this to be by Van Gogh, mostly because of the human figures: not only are the uncharacteristically large, but there are a lot more bodies than you normally see in Van Gogh's work. But I really like the use of color, and that does remind me of Van Gogh. I especially like the red highlights of the woman's dress in the foreground. What do you think? Do you like this painting?
This authentication is pretty exciting – Le Blute-Fin Mill is the first Van Gogh to be authenticated since 1995. However, admittedly, the painting has long been disputed as by Van Gogh – an eccentric art collector bought the painting and always claimed it to be by the master, but no one took the collector seriously. You can read more about the story and authentication here.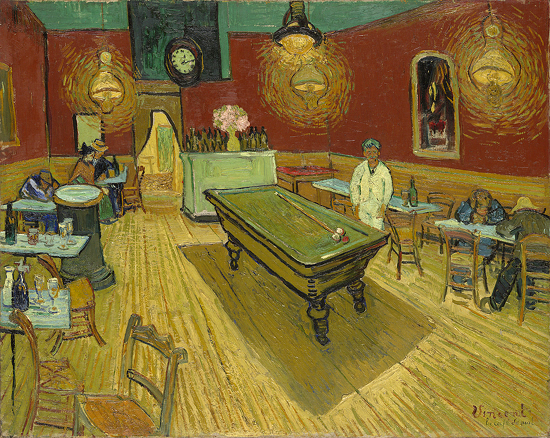 In other Van Gogh news, the famous The Night Cafe (1888, shown left) is involved in a dispute regarding ownership. This painting has hung for almost fifty years in the Yale University Art Gallery, but now Pierre Konowaloff, the great-grandson of the previous owner, is trying to claim the painting back. It seems like a pretty sticky situation: Konowaloff's great-grandfather bought the painting in 1908, but it was subsequently nationalized and sold by the Soviet government during the Russian Revolution. Therefore, Konowaloff believes that the painting classifies as "stolen" and feels justified in claiming it back.
I personally don't think that Konowaloff has a very good chance of getting The Night Cafe back, but what do other people think?